Ribbon For Citizen Printers :-
A quality conscious company engaged in manufacturing and supplying unbeatable Thermal Transfer Ribbon. We are serving our quality products to various kinds of industries like-Manufacturing units, Retail Stores, Pharma industries, Automobile industries, Logistics etc. Every type of ribbon has got two-three types of variant quality. Barcode Ribbons (Ribbon for Citizen Printer) are also known as thermal transfer Ribbons. Our Ribbons are highly compatible for all kinds of Barcode Printers. A Thermal Transfer Ribbon will be required to print the labels. These Ribbons are available at very economical prices to offer maximum satisfaction to customers.
Thermal transfer is already a well-established technology for coding onto flexible packaging yet through superior capability and technological advances that make it more affordable, it is also now gaining widespread recognition as a replacement to older, non digital technologies including hot stamp and roller coders.
Domino's V-Series range of Thermal Transfer Overprint (TTO) coders can print variable data, bar codes and images at 300dpi quality onto flexible packaging films and labels for a wide range of manufacturing and packaging applications in the food, pharmaceutical and industrial sectors.
http://www.indianbarcode.com/products/barcode-ribbons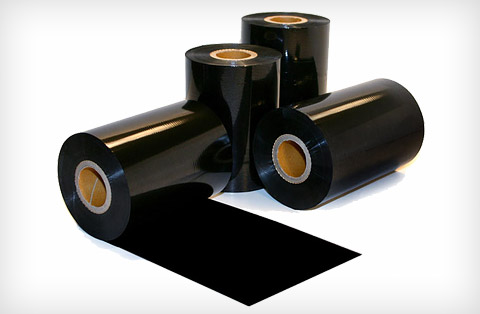 Types of Ribbons
Basically there are three types of thermal transfer ribbons viz wax, wax /resin and resin. Each type has a range of subtypes like Economy, Premium Ribbons… Thermal Transfer Printing is done with two types of print heads Flat-Type print heads and Near Edge (True Edge, Corner Edge) print heads. Ribbons used for these two thermal transfer printing technologies are different though the types may be the same.
The least expensive of all thermal transfer ribbons. Wax ribbons have a high percentage of wax based substance in the colorant. Most wax ribbons are made with a single colorant layer. Since waxes have lower melting points than resin substances, printing can be done at lower heat settings or energy levels. As waxes are softer image durability is less against smudge, scratch, chemical and environmental resistance. So wax ribbons are suitable for printing on uncoated or matte coated surfaces. Wax ribbons are suitable for printing purposes where there is not much abrasion or physical contact against the printed matter or the printing is not needed for a long time. Wax ribbons can be used for general purpose labeling, shipping labels, address labels, garment tags, price tickets, warehouse applications, compliance label printing, including shelf and bin labels, retail tag and label applications.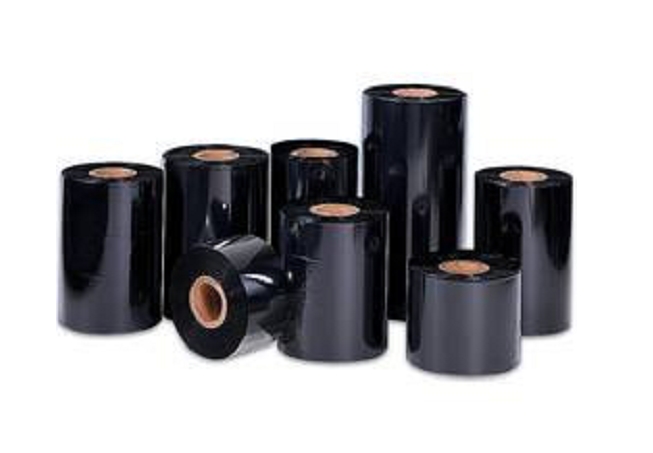 Wax / Resin ribbons are a combination of wax and resin based colorant substances in which resin substances hold a greater percentage. Wax / Resin ribbons are made of two or more layers. Resin substances have a higher melting point thus increasing the melting point of the ribbon. Printing with Wax / Resin ribbons takes place at a higher heat or energy setting then wax ribbons. As resins are harder than waxes image durability, chemical resistance and abrasion smudge scratch resistance is more than that of wax based ribbons. They also assure excellent edge definition. Wax / Resin ribbons can be used with glossy or smooth surfaces, synthetic materials. Printing speeds of 16 inches per second can be achieved with Wax / Resin ribbons. Wax / Resin ribbons can be used for all purposes where wax ribbons are used but where there is a chance of abrasion or scratch due to contact. Wax / Resin ribbons are slightly expensive then wax ribbons.

Resin Ribbons contain the highest percentage of resin materials. Most Resin ribbons are made up of two is more layers. Printing with resin ribbons is done at high energy levels or heat settings as resins have a high melting point. Low print speeds can be achieved due to the high energy levels required for printing. But the resultant printing images bear a very high resistance to chemicals, heat, abrasion resistance and other environmental conditions. Resin Ribbons are best suited for use with textile apparel or garment labels like (taffeta / satin), high gloss coated materials like polyesters, polyolefin, destructible vinyl, warranty void labels, labels which are to be exposed to harsh environments like chemical drum labels, medical and pharmaceutical labeling, as well as industrial and automotive applications. Resin ribbons are the most expensive of thermal transfer ribbons.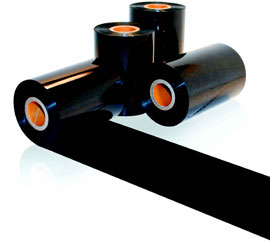 No one has as many thermal transfer ribbons in as many colors as we do! Indian Barcode Corporation manufactures and sells the largest variety of spot color thermal transfer ribbons in the industry, from red thermal transfer ribbons to gloss gold metallic thermal transfer ribbons. We also sell process color thermal transfer ribbons for our family of digital color label printers which use thermal transfer technology.
Scratch Ribbon which can print with outstanding scratch resistant on thermal coated paper. Our Scratch Ribbons are the best quality ribbons, we are biggest supplier of Scratch Ribbons in India. Mindware India provides the Scratch ribbon which can print with outstanding scratch resistant on thermal coated paper and polyester labels. It can be also used as an alternate to paper resin ribbon.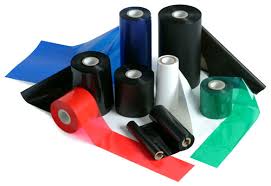 Wash care Resin ribbon is capable of handling extreme environmental labeling. Highly chemical resistant including alcohol and petro chemicals. Unmatched in abrasion and solvent resistance. UL/CSA recognized with matching receiver .Wide print latitude to broad range of plastic films, synthetics and polyesters. Some Recommended Applications: extreme environment labeling, circuit board labels, chemical drum, automotive, signage, electronic component, product identification and asset tracking labeling. Specially formulated for use on care labels providing excellent resistance to dry cleaning, home washing, industrial washing and ironing. This super premium resin offers high definition and density and can be used on flat head and near edge printers. High printing density and definition wash care ribbon (premium resin ribbon) available for many types of barcode printers.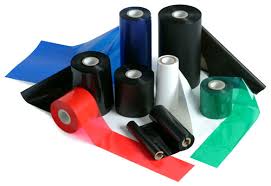 Thermal Transfer for applications that cannot use Thermal (Thermal Direct) label material because of heat source proximity or short label life, a more widely used material is Thermal Transfer Label printer. This material has the advantage of a much longer readable life and does not fade with time or heat. Most major manufacturers of Thermal Printers can be used for either Thermal Transfer (TT) or Thermal (DT) labels. A thermal transfer ribbon will be required to print the labels. The cost of the ribbons + TT labels is similar to that of the DT labels on their own.
Thermal Transfer Ribbon Types: Wax is the most popular with some smudge resistance, and is suitable for matte and semi-gloss paper labels. Wax / Resin is smudge resistant, suitable for semi-gloss paper and some synthetic labels. Resin is scratch and chemical resistant, suitable for coated synthetic labels.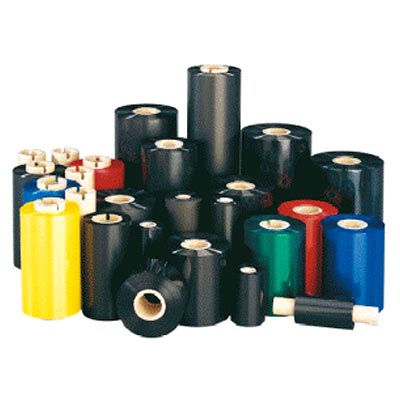 Indian Barcode Corporation deals in Barcode Ribbons. For any query and suggestion regarding Barcode Ribbons call us on 9717122688 or write us at gm@indianbarcode.in.
You can also purchase online from www.indianbarcode.in
For any query contact us:-
Indian Barcode Corporation.
S-4, Plot No. – 7, Pok-7, Pankaj Plaza, Sector-12, Dwarka,
New Delhi- 110078, India
Phone No. – +91-011-28032434/ +91-9717122688
Email Id: gm@indianbarcode.com
Visit us at: http://www.indianbarcode.com
---
Form more info Email us at gm@indianbarcode.com or call us at +91-9717122688